Card Radar: Designer Patrice Kelly Showcases The Belle and The Paradox Playing Card
Greensboro, NC designer Patrice Kelly, who operates
Fluid Design,
created two playing card designs for wedding or shower use. Despite being created for the purpose of celebration, the designs are incredibly intricate, detailed and are reminiscent of some of the more known playing card decks on the market today. The playing card designs that Kelly created are called The Paradox Deck and The Belle.
Seen below, The Paradox Deck, is an all black and white deck that features a two-way (minus the bride/groom names) borderless back design and heavy and soft line work that creates balance and contrast in all the right spots on the cards. It is pictured below with an all black Ace of Spades as well as white face and number cards. The deck does not have traditional court cards. If printed as a fully functional set of cards, the all black would have to be printed throughout and likewise for the white. Given the purpose of these cards (weddings), black and white cards could be interchanged. Notice the names of the bride and groom are featured on the card design.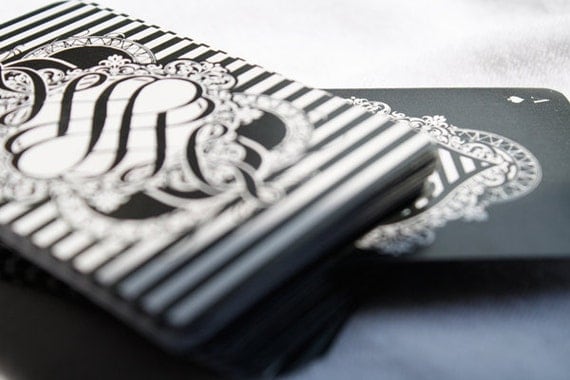 The Belle deck is clearly designed as two contrasting decks - an all black design as well as an all white design. This deck is what you get when you combine
Theory 11 Artisans
and
Bicycle Jekyll and Hyde
- elegance, victorian, dark and powerful. In fact, the Ace of Spades looks very similar to the Theory 11 Artisans Ace of Spades. The all black design uses a one-way bordered back design with a contrasting centerpiece, elegant floral patterns and script text. This deck also does not have traditional court cards. The all white design feels rather incomplete as it could use more contrast. However, it is just a re-colored version of the all black design.
A greeting card was designed in the same style as "The Belle" to be used for Birthdays.
The designs were posted on
Kelly's Behance.net profile

.
Card Radar: Designer Patrice Kelly Showcases The Belle and The Paradox Playing Card
Reviewed by
Ivan
on
6/30/2013
Rating: